Please wander through and stay a while at
Susa Glenn Designs! The links will take you to some great sewing fun.
Susa is the sewing project designer

and

the machine embroidery digitizer so the embroidery projects are exceptional and each one has clear and detailed instructions with lots of photos. Free machine embroidery tutorials are provided online along with free embroidery designs so you can test before you buy.


In addition to machine embroidery designs and projects, there are Sewing Whimsies, whimsical soft sculptures that double as sewing accessories such as pin cushions, thread catchers and sewing chatelaines.
Extra Parts to make multiple Whimsies are available too.
NOTE!!

This site holds a collection of Susa Glenn's creative projects that are the result of over ten years of work.

To see the most recently added items in the category of your choice, choose Sort By: Newest, then click Go. To see all of group on one page, choose to view 46 or 80 per page.





Experience the Easy Free

dom of wor

king with paper machine embroidery design templates and paper machine embroidery layout templates! Free Tutorials with lots of pictures are here and here.
The files available for download here have been compressed into .ZIP format. You can UnZIP them using WinZip or WinRAR, or WinXP's 'Extract To' feature. Downloads come with PDF files; you will need Adobe Acrobat Reader to open them. Click on the link to the left to download it at the Adobe website.

| | |
| --- | --- |
| | For another way to browse the products at Susa Glenn Designs, go to IMEALink, the site for Independent Machine Embroidery Artists. There are lots of thumbnail pictures of the products and all the photos link back to this site for purchasing. |
Susa's Specials

New Project Bundle! Added 6/17/2013



Embroidered Zinnias Card Case


New Project Bundle! Added 6/9/2013



Embroidered Zinnias Checkbook Cover

New Project Bundle! Added 5/31/2013


Embroidered Zinnia Glasses Case
New Newsletter, June 1, 2013 is now available. Check it out for details on the introduction sale of this new product.

New Project Bundle! Added 5/25/2013


Machine Embroidered Zinnias Clutch
New Project Bundle! Added 5/2/2013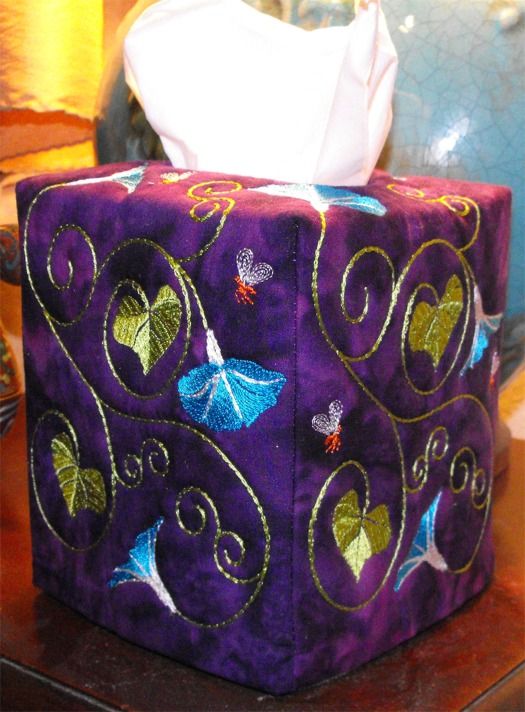 Morning Glories Embroidered Tissue Cover
If you like the quality that you find on this site, please spread the word. Tell your friends. Post links on your favorite forums.